Reef Leader's Ripple Effect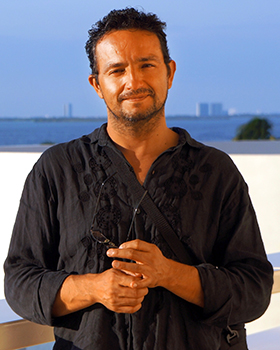 Eduardo Patiño Gonzalez knows a lot about wildlife and the environment—he's led ecotours to see whales, sea turtles, birds, and even monarch butterflies in Mexico for 20 years. But after taking CORAL's Coral Reef Leadership training-designed to make sure marine recreation providers are engaging in sustainable practices-in 2010, he felt transformed. "I thought ecotourism was a good thing, but [through the training] I came to see that it had impacts. The training changed my vision."
For example, ecotours that guarantee whale shark sightings have created uncontrolled competition and "environmental blindness" among travel agencies, tour operators, and tourists, says Eduardo. He has seen too many snorkelers on top of whale sharks and too many boats within the sharks' feeding areas, sometimes injuring them and polluting the water.
He also saw tourists having a big impact on the reefs. "I realized that we needed to do more."
"Tourism is like a knife with two blades," says Eduardo. "It can do good things for the economy, but it also generates negative impacts on the environment and compromises habitats."
Since completing our training, Eduardo has volunteered for CORAL, conducting 39 environmental walk-through evaluations of marine tourism providers, 7 reevaluations, and 5 sustainable marine recreation workshops in Cancun, Cozumel, and the Riviera Maya. Plus, he has organized or participated in several beach and lagoon cleanups and given talks about mangroves and wetlands and their relationship to coral reefs. Eduardo says he has seen marine recreation providers change some of their practices after the walk-throughs and workshops. And, he says, there is no time to waste: "Conservation is right here, right now. We're in it. The planet is telling us that the future is now."